Date Night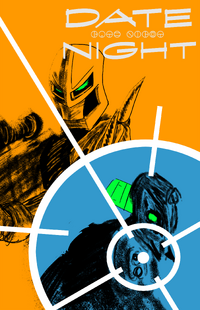 Well, here it is at last… the grand victor of the contest in all its glory...
Dominating discussion since the contest began, Date Night was uniquely poised through virtue of its graphic novel format, making it much more accessible and easier to digest than most prose-heavy short stories, with the assurance of regular updates and a compelling story from our own resident funnyman, BionicleChicken. But beneath the hood, this reviewer feels compelled to comment on the new ground this story breaks, not just as the winner of this contest, but as Page of the Year 2017.
Unanimously celebrated across the wiki, ''Date Night'' is praised for its creative premise, which intersects the worlds not only of Tayluu and Thode, also of Shadowmaster, Typhus, even finding time to sneak in an appearance from Niha and her ATP-000 brethren. The choice to give Tayluu retrograde amnesia feels like a very befitting footnote in the life of a Toa of Psionics, while the decision to depict Thode in the over-zealous, Batman-Year-One stage of his career serves a similar effect, ensuring plenty of comedic openings that culminate in a Mr and Mrs Smith-style battle between love-struck assassins. While the overarching Beasts subplot only makes some sense to this research-lacking reviewer, I wholeheartedly have nothing but praise for this story. Entirely hand-drawn with near-daily updates over the space of three months, one can do little else but marvel at the gargantuan effort undertaken in the completion of this story before the twice extended deadline.
With the innovation of Date Night as the first successful crossover event on the wiki, this reviewer now personally possesses a much greater interest in seeing a shared storyline come to fruition. After reading Date Night, there can be little doubt that BC should be heralded as one of the most creative, meticulous, and renowned content creators in the fandom, with the legacy of this story spawning its own fan-created art.
A true stroke of genius that employs the same quick-thinking wits and affectionate prioritization of character over gimmick that won BC the Character Swap Contest in 2015, this reviewer can safely say that this is the best comic he has read since Elegy ended.