Recgameboy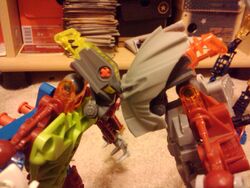 Well it's not everyday that we have one of these.
Recgameboy is probably the oldest user on the site who has been editing in the last year. Granted, he did go inactive for several years, but he has recently made a return and has been busy.
He originally joined at the end of 2008, and created several pages in his original time on the wiki. These characters include, but are not limited to: Jaller, Hook, Nightslasher and Shaller.
Having written several short stories about his characters and filled out his pages with a wealth of information, Recegameboy has been an extensive library of content on our wiki that will last forever. And with his return to activity he has been updating his content, making it a consistently glistening gem of the wiki's first ten years.
Let's celebrate his return and wish him luck on his future on both the wiki and in his personal life. Give his articles a read as well, especially the ones he's been updating. Cheers.
Vote for the next Featured User here!
Ad blocker interference detected!
Wikia is a free-to-use site that makes money from advertising. We have a modified experience for viewers using ad blockers

Wikia is not accessible if you've made further modifications. Remove the custom ad blocker rule(s) and the page will load as expected.