Fire Launcher
User(s)
Zuxan (Formerly)
Functionality(ies)
Launch fire balls, levitate
Status
Presumably destroyed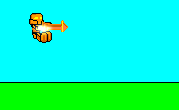 Fire Launcher or alternatively, the Magma Gun was Zuxan's tool for a short time during the Quest for the Four Great Lands. It could be used to shoot balls of fire and had limited flying and levitation powers.
Zuxan got his Fire Launcher from a Weapon's Hut in Musterdia. Therefore it's presumed that there could be more Fire Launchers available.
Zuxan's launcher was presumably destroyed when Grandeg knocked it in lava during the final battle of the two of them. However, it isn't known if the launcher can withstand lava or not.
Trivia
The Fire Launcher was designed and sprited by the bzpower member Lemoru for Toatapio Nuva's Comics: The Movie.
Ad blocker interference detected!
Wikia is a free-to-use site that makes money from advertising. We have a modified experience for viewers using ad blockers

Wikia is not accessible if you've made further modifications. Remove the custom ad blocker rule(s) and the page will load as expected.