" Die, Useless Toa!"
-Kraahkanuva to An Unknown Toa
Kraahkanuva
Information
Species
Toa/Demon
Group
Agents of Doom
Kanohi
Demon Avohkii
Colors
Black, Silver
Element
Shadow/Gravity
Occupation
Toa Hunter
Tools
Seismic Cannon
Location
Karzha Nui
Status
Unknown
Pronunciation
Crack-an-oova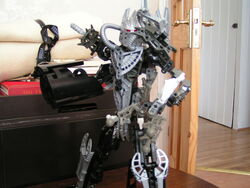 Kraahkanuva is the feared Toa Hunter of Karzha Nui, and once the Leader of the Toa Federation. Before Kraahkanuva was what he is now he was golden Toa with a massive blade. He hates Karavahk, as he 'killed' him. Kraahkanuva is a zombie- possessed by shadows. His Seismic Cannon is powerful enough to reduce someone to ashes. He is sepecially large, almost twice the size of normal Toa. As soon as he completes his mission, to kill all Toa, he can achieve his death. Kraahkanuva possesses immense power, he can either take away Gravity, or crush people with it. He uses brute strength to pummel his opponents to a pulp. He also despises Toa Salamax.
Personality
Kraahkanuva has no personality due to his undead nature.
Weapon
The Seismic Cannon is a heavyweight weapon and can blast nearly anything into trillions of fragments. It is known as the Eye of Santorakh, and in the hands of Kraahkanuva, it is an accurate and dangerous weapon.
Stats
Elemental Power: 23
Strength: 32
Speed: 20
Willpower: 0
Skill/Agility: 12
Ad blocker interference detected!
Wikia is a free-to-use site that makes money from advertising. We have a modified experience for viewers using ad blockers

Wikia is not accessible if you've made further modifications. Remove the custom ad blocker rule(s) and the page will load as expected.