Kudrat is a stub.
Presently, this article sits beneath the stub threshold of 2,000 bytes. It is currently 961 bytes. It is suggested that the creator add more relevant information, or it may be deleted. Once improvements have been carried out and the page has been wikified to meet the manual of style requirements, this tag may be removed. If the page receives no further improvement, it will be deleted October 22, 2017.
Kudrat is up for Adoption.
This page is available for adoption. This means the page does not meet Wiki standards and its original author has since left or is considered inactive. The first to claim this page using the Adopted template has complete access to the contents within and can do as they please to the page. Visit the Category page by clicking on the Mahi to learn more. If the page is not adopted October 22, 2017, it will be deleted.
This article was written by Antony13. Please do not add to it without the writer's permission.
Kudrat
Information
Species
Av-Matoran/Agori Clone
Group
Karda Nui Center Village Sentinel
Kanohi
None, just a Spherian helmet
Colors
Green, Lime-Green
Element
Light
Occupation
Sentinel
Tools
Claw Daggers
Location
Nui Karda Nui
Status
Alive
Pronunciation
KUHD-rat
Kudrat is an Av-Matoran who is a sentinel of the Karda Nui Center Village along with Gavla. But he's not only an Av-Matoran, but a clone of Tarduk!
History
Creation
A Spherian scientist named Buronakx collected a sample of Tarduk's DNA.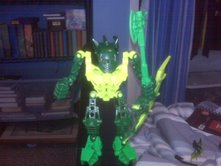 more later
Trivia
Kudrat is actually Tarduk spelled backwards.
Appearance
Ad blocker interference detected!
Wikia is a free-to-use site that makes money from advertising. We have a modified experience for viewers using ad blockers

Wikia is not accessible if you've made further modifications. Remove the custom ad blocker rule(s) and the page will load as expected.