Life contains canon BIONICLE info.
This article contains canon information but has fanon info added to it. Therefore, this article shouldn't be deleted, since this article also contains fanon info. The canon version of this page can be viewed here.
Life

Information

Associated Colors

Gold, Yellow

Prefix

None
Life is a Legendary Element. The only object able to control life was the Kanohi Ignika, the Legendary Mask of Life.
Description
Life is a legendary element that is only controlled by very powerful beings. As Life is a legendary element, it has not, and cannot, be combined with any other element. All Matoran, Toa and Turaga of Life can survive without bearing a mask, although their elemental powers will be weaker.
Users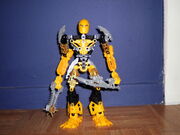 Toa
Other
Nui
Nui are the only species in the BLR Universe to be able to control powerful Life powers without a Kanohi Ignika and without dying.
Objects
Examples of Use
Creating life energy
Bringing inanimate objects to life
Controlling/absorbing life energy
Altering/controlling life-forms

Enlarging life-forms
Changing one life-form into another
Manipulating aging
Evolving/Devolving beings

Granting powers, Elemental or otherwise.

Shapeshifting
Resurrecting a being by using part or all of a life force(s)
Unleashing a Life Nova Blast (Toa-exclusive)