This article was written by Toa Hydros. Please do not add to it without the writer's permission.
Stinger Dragon
Creature
Conservation Status
Widespread
Pronunciation
N/A
Stinger Dragons are fierce creatures native to the wastelands of Bara Magna. They are occasionally used as mounts by Bone Hunters.
Abilities & Traits
Vicious and enormously powerful, Stinger Dragons are some of the most feared animals on Bara Magna. While normally solitary, Stinger Dragons will occasinally gather in loose-knit packs. Due to their fearsome nature, only the Bone Hunters have had any success in demestecating them.
Though the their claws and powerful, tooth-filled jaws are formidible weapons, the Stinger Dragon's primary tool is its scorpion-like tail. It is equiped with a sharp stinger that can inject a crippling venom that causes paralysis.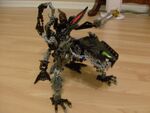 The venom is fatal if left untreated for more than a day. The only known cure for Stinger Dragon venom is to create a potion that mixes ten drops of the reptile's venom with necture from the rare Desert Thorn Blossom plant.
Trivia
Stinger Dragons are distant relatives of the Rock Steed.
Ad blocker interference detected!
Wikia is a free-to-use site that makes money from advertising. We have a modified experience for viewers using ad blockers

Wikia is not accessible if you've made further modifications. Remove the custom ad blocker rule(s) and the page will load as expected.