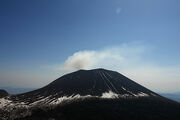 .
Tamakun is a Universe known to be the home of Kutoran.
Information
Structure
Tamakun is a very Tropical universe. There is HARDLY any desert reigons, and all of Tamakun is just Rain forests and Jungles. There is HARDLY any civilization on land, but there is civilization in the Sky, but mostly and entirely on the tree-tops. The Tree-tops are where many Kutoran live in. The skies and the Tree-tops are the Safest places to be in, because there is always light in both the Sky, and the Tree-tops, and not much shadows. Seasonal changes do arrive, but when they do, its like a change of time and space, because during spring and summer, it is just Tropical rainforests, but in the winter, it is VERY snowy in the reigon.
History
Tamakun has existed before the Matoran Universe came along. Tamakun was created by the mysterious being, Xelovakk, but Tamakun didn't stay as Xelovakk's possesion. Because of the fact that Xelovakk has caused dangerous and frightful ways in Tamakun, another Great Being known as Horus(Hades's brother) took over and restored the damages that Xelovakk has caused. When the Matoran Universe was created, a giant who took over leadership of the earliest Makutas(called Gadget Blasters) known as Alphinox has spreaded darkness all over Tamakun. Eventually, a young Kutoran called Zephros was able to stop the spread of the darkness, and rescued Tamakun, driving Alphinox away for thousands of years. Even today, Tamakun has remained unharmed by any evil.
When Mata Nui woke up and stood up in Aqua Magna, the Sapphire Bridge had shattered and collapsed.
Residents
Tamakunian Beings:
Kutoran:
Former Residents
Regions(Locations)
Kutoran Kingdom I
Kutoran Kingdom II(underground)
Kutoran Kingdom III
Kutoran Kingdom IV
Diamond Tunnels
Guntraxz
Graveyard Desert(inhabited by many creatures)
Forest of Light
Tower of Dimensions
Sapphire Bridge(destroyed)
Bottomless Ocean
Mt. Devastation(as seen on the top right-hand corner)
Trivia
Tamakun is a fictional world created by CrazyCarapar(BloodKirby84 in Youtube).
Tamakun is the ONLY universe that goes through seasonal changes.
Ad blocker interference detected!
Wikia is a free-to-use site that makes money from advertising. We have a modified experience for viewers using ad blockers

Wikia is not accessible if you've made further modifications. Remove the custom ad blocker rule(s) and the page will load as expected.